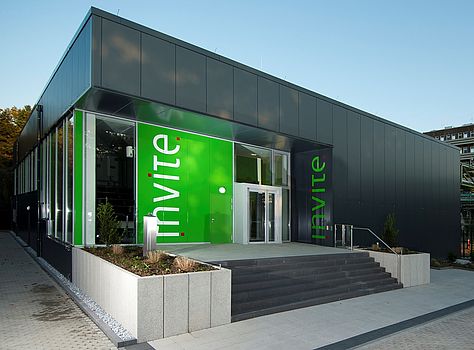 Our research center and headquarters are located at CHEMPARK Leverkusen in Germany, where we bring research and practice together under one roof in an open innovation platform.
Our mission: Accelarate utilization of innovative technologies through exploration + demonstration
Our vision: Your preferred partner for unbiased exploration of future technologies. In collaboration with partners, we build a bridge between academic breakthroughs and your industry application.
For this, we continuously expand our academic network. Collaboration with leading research groups forms the basis to identify innovative technologies early on.
INVITE Science Talks 2023
INVITE is hosting Science Talks on Innovation, Visions & Technologies in the field of Robotics, Drug Delivery Innovations and Sustainability.
Next Robotics Talk: to be announced soon
Next Drug Delivery Talk: November 27 (2023) 13:55-14:55 CET Link
Next Sustainability Talk: to be announced soon
Drug Delivery Innovation Center
European public funding for extension of DDIC infrastructure

EU supports expanding the research center for Drug Delivery Innovation Center (DDIC) at Chempark site in Leverkusen.